I've wanted a standing desk for a while. However, I don't have a dedicated office at home, so I use the dining room table. This means I can't get a full desk replacement. My only option is something that goes on top of an existing desk.
I had almost given up on my search when I was listening to the Security Now podcast and heard they had a new sponsor. A company called Varidesk. It sounded exactly like what I was looking for. I ordered one.
Which one?
I ordered the Pro Plus 48. This was my choice, simply because it is the largest one they do. I have 3 monitors at the moment. 15" Laptop, 27" Dell P2715Q and a 24" Samsung. I wanted all three side by side, but doubted that 48" would be enough. Sadly it's not. But it really doesn't matter.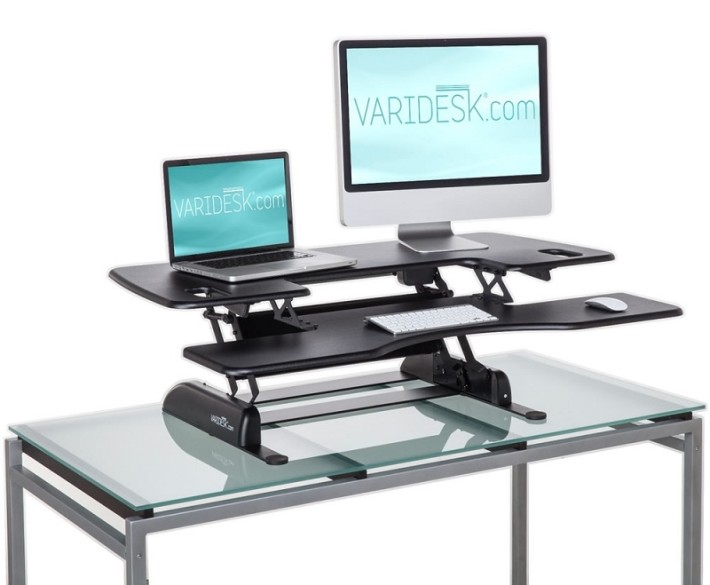 Initial Impressions
The ordering process was simple. The delivery was fast. The box was huge. It was heavy.
The box weighs over 38kg and seriously needs two people to lift. Its not necessarily the weight that is the issue, it's more the size. The delivery man helped me carry it in, but then unboxing it was quite difficult on my own. Nevertheless, I managed it and lifted it only my table (with only minor damage to the table).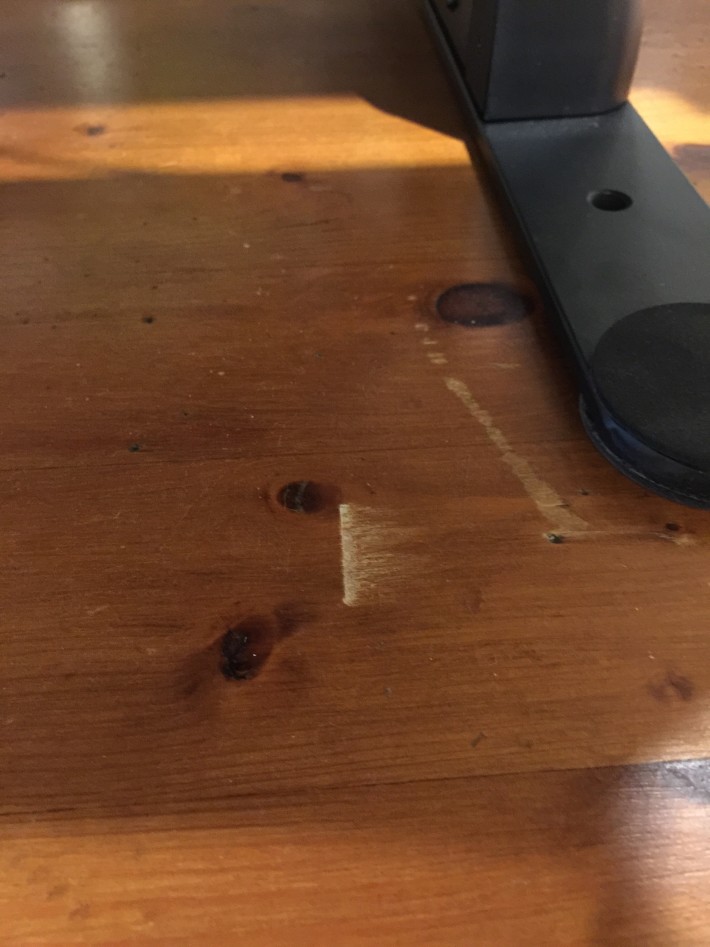 Seriously, wait until someone else is home to help you. Or if you're impatient like me, just do it yourself and carve a hole in the table.
Build Quality
This is a well made piece of kit. It is very solid and the lifting mechanism is easy to operate and only requires a light tough. I'm very impressed with the overall build of the unit.
The first few days
I have tried to be sensible with the amount I use it standing to begin with. I only do it for 30 mins at a time and only a few times a day. Even though I am rationing it, I am still finding my lower back a little bit sore, but I don't think this is anything to worry about. I am using muscles that I don't normally use and am changing my daily habit which I have been in for a decade. I think it's perfectly fair to have some soreness during the first few days.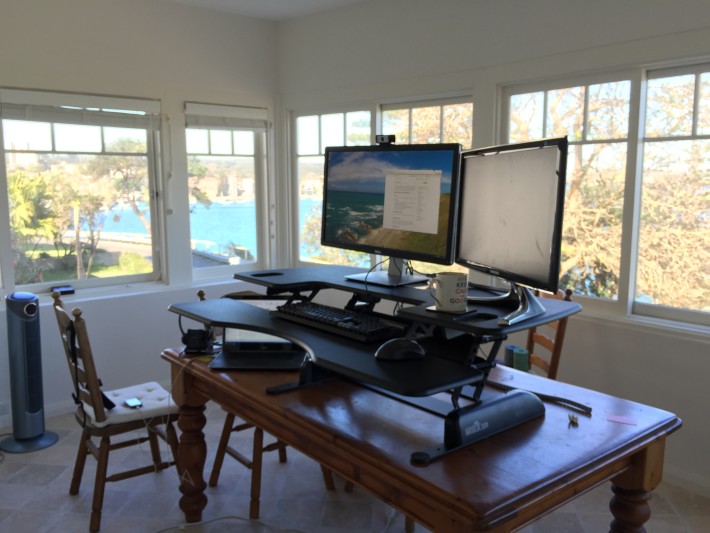 Surprisingly, I am now beginning to prefer working when I am standing. I think this is because I have much more control of the height of the keyboard and monitors compared to when I am sitting. This is just a personal thing as the chair I use is a little too low for the table, and as been made a little worse with the addition of the Varidesk. The Varidesk raises the keyboard by about an inch when in the usual sitting position. This is a minor point, but something to be aware of.
What would I change?
There is very little I would like to change. I have noticed that I seem to like to have my mouse quite deep into the desk and the Varidesk doesn't really allow that. There is plenty of mouse space horizontally, but I seem to want to go further into the desk and I end up moving off the plastic.
This is a behaviour that I assume will change over time.
Conclusion
So far so good. The desk is high quality and is exactly what I was looking for.